On-site Training Nationwide
CALL NOW FOR PRICING
(888) 501-1355
Hablamos Espanol
What is a Digger Derrick Truck?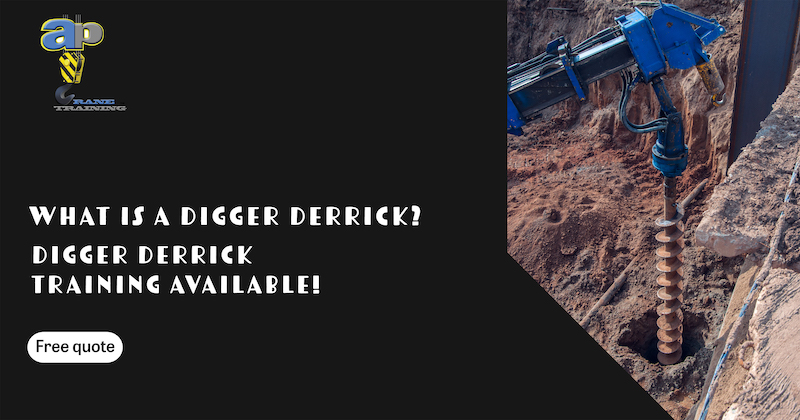 ---
A digger derrick truck is a machine equipped specifically to dig holes, set shafts, and work with different materials. These digger derrick trucks generally work with utility jobs like transformers, concrete poles, cross arms, and remove or fill holes with material like soil or rock. While digger derrick trucks are reliable and get the job done from beginning to end making them reliable in the utility business. They are repeatedly used to complete development and telecom projects nationwide. All Purpose Crane Training offers digger derrick training courses are available in various models and sizes to meet the latest standards and regulations.
How does a digger derrick truck operate?
A digger derrick truck is operated by a powerfully controlled drill to drill into the ground, constructing a hole. The digger derrick drill is also utilized in different working conditions. Ground type is a central point in the outcome of digging an opening. Delicate sand or soil is not difficult to dig, and a seven-foot opening can be done in under fifteen minutes. Harder soil, weighty mud, or even stone makes digging extremely tough and takes much longer.
To define the dimensions of the opening the digger derrick truck can dig, you first must audit the details of the digger derrick. The sheave level of a digger derrick determines the unit's ideal digging sweep and what size post the unit can lift. Some digger derrick trucks hold sheave levels that run from 36.7 to 105 ft, the largest in the industry. The digger derrick utilizes a winch to get and move materials. Post guides help the machine appropriately set shafts into the opening made by the drill.
Digger Derrick Truck Training
Our digger derrick truck trainers are professional operators, hands down the best in the digger derrick industry. We have a functional and successful approach to digger derrick truck operator training that makes us unique from other training programs. We can provide our digger derrick operator training on your site, saving you time and money. Also, our on-site digger derrick operator training can be customized to meet the employee's or employer's specific needs and the latest OSHA requirements. If you're interested in one of our digger derrick operator training, contact us today or give our office a call at (888) 501-1355.
---



---
Payments Accepted


Our History
All Purpose Crane Training instructors combined brings over 100 years of training and field experience. We strive to deliver the highest standard of quality crane certification training.

apcranetraining.com 2023 All rights reserved. Web Development by All Purpose Safety Training Solutions